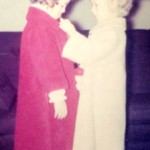 You.  In the Enneagram of Personality I score highest on Type 2.  That means that my personality is distorted in a particular way to attempt to fill a need I have in myself.  That need is to love myself fully and that is the hardest thing for me to do.  I have struggled my whole life with issues of self-worth and have done all sorts of things to fill that need in ways that do not fill me with self-love. Drinking was one way and I tried that for many years.  Another way I have attempted to fill my self-worth vacuum up is by helping others and filling other's needs.  I'm really good at that and, like a fly drawn to honey, I am drawn to helping others.  Many years before I knew anything about the Enneagram a friend said to me that "I see a need and am filled by it."  They were right.  I am infinitely more attuned to the needs of others than I am to my own.  I have been overwhelmingly interested in helping you rather than helping my self.
Last week when I was walking on the beach on Assategue Island in Virginia I knew it was time for me to seriously pay attention to my own needs and attend to them.  The week before that I was at The Enneagram Institute for a couple of days studying more deeply about personality.  A question we were asked was to talk about what was important in our outer world and what was important in our inner world.  I had a ton of ideas about the outer world and what was important.  For my internal world I drew a blank and had to pass answering the question because I didn't know.  That exercise woke me up, so much so that I decided this is my last alphabet piece.  I grew tired of this a while ago and felt I had to continue because I told you I would.  I'm done.  So close to the end even and I am done.  No Z. Most likely it would have been Zest, and, I have lost the zest to do this.
I want to form these essays into a book.  I want to go through each essay I have written and edit them in the hopes of forming some meaningful compilation that fulfills my vision and journey on the path to learning to love my self more deeply.  Of course I hope it will help you as you read them.  Mostly what I want is to go inside and learn about what it means for me to love my self first.  My belief is I am not alone in these feelings of confusion about how best to care for me.  In the process of doing this I hope you will feel comfortable to share your stories too, and for now I know if you don't and even if no one reads them, it is for me.
The picture I have shared as a representation for all of these pieces is of me helping Cindy with her bathrobe.  That has been my favorite picture throughout my life and I know why.  I am helping Cindy, an innocent vulnerable soul who could not help herself very much.  My desire is to care for me like I cared for her back then, with all the tenderness and love I had for her.  It will not be easy and I assume I will shed many tears along the way.  I may even ask for your help and care.
I will share this photo one more time and may put it away after this and find a new image that reflects what I am attempting to do.  We shall see.  For now, thank you for coming this far with me.  I hope to see you on the path forward and possibly share some insights along the way.
With love for all of us,
Melody