Love Lessons; The Alexander Technique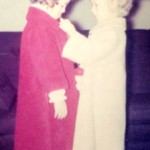 I have been a teacher of The Alexander Technique since 1993 and have used the Technique as the foundation for all my work and life.  Whether it has been working with artists, raising my children, teaching in the corporate world or being in relationship, it has been there in the background as a way for me to listen to what is foundational in all my interactions.
Another important foundational support I live with is love.  The quality of my loving in my relationships, whether they are professional or personal has been a significant part of my quest to find meaning and purpose.  Through the act of intentional loving I support others in a way that is creative and evolving.  At least that is the way I hope my relationships will be and what they will bring to this life.  When I am intentionally living with love as my foundation, the opportunity is present for every interaction to come to a new way of being in and with our selves.
Cindy taught me the most about what pure love is.  Through her 'dis-ability' which was actually a gift, she showed me what compassionate, unconditional love is.  I am talking about 'agape', which is a love for all of humanity.  It is pure compassion, the ability to be fully with others without judgement or needing to change another.  It is 'being with' in the highest form.
Following is a portion of the popular reading from 1 Corinthians 13:1–13
Love is patient and kind; love does not envy or boast; it is not arrogant or rude. It does not insist on its own way; it is not irritable or resentful; it does not rejoice at wrongdoing, but rejoices with the truth. Love bears all things, believes all things, hopes all things, endures all things. Love never ends.
I read this in its entirety at Cindy's funeral.  It's often read at weddings and felt particularly important to read then. This is who she really was.  She lived all of this every moment of her life. Through her being who she was and living as purely as she did she showed me what this kind of love is.
When I am teaching well I am loving another and my self in this way.  I am not judging.  I am patient and I hold with loving kindness the totality of another in all their vulnerability and strength.  I believe in the possibility of change.  I know the inherent wisdom and power of the person or people I am working with will guide us all to a way of being that is more whole and true.  I know when the session or class is over that the 'work' continues as I trust who they are becoming and they gradually begin to trust that as well.
I came up with an acronym that sums up what I think happens when we work this way.  Of course the word is………
LOVE
When we are working with others in love we allow space for the other to;
Lengthen and Open, which enables them to sense their true Vitality and Express the uniqueness of who they are.
What could be better than that?
After teaching and studying for almost 40 years things are becoming clear to me in a way that is profound and remarkably simple at the same time.  I am discovering these truths which reveal everything to me and are as simple and pure as Cindy was.  I love, really love the irony of this and feel as if Cindy is looking down at me saying, as she did so often 'see Mel, like that.  It's so easy.  See how easy it is?  Just do like I do Mel.  It's so easy.'
Thank you so much Cindy for showing me how to live in this world with tenderness and grace and to teach with love as my foundation.