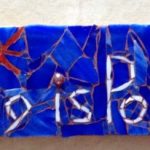 This is undeniable and absolute.  It is, as my partner often says, ' Truth with a capital T.   How you are now, how you focus on your way of being and the choices you are making, will determine who you become tomorrow.    You can tumble or crawl into tomorrow or you can create how you want to be.  While it is impossible to control what will happen it is without question, yours to create.  If you do nothing new, if you fall victim to what is to come, you have no choice.  If you design and create and dream and use today wisely, you will shift your reality towards something you want rather than something you fear.
While we are coming face to face with the uncertainty of what will come next we are also being given the opportunity to create ourselves anew.  This time is filled with possibilities for you to bring something new of your self into the future.  How you feel, think and act today will shape who you become tomorrow.
I am choosing to use this time to think about what is possible and create something  beautiful and generative.  I want to explore possibilities and ask the questions' what could be' and 'what haven't I thought of before' that will help me design something new for tomorrow.   The following poem by Dawna Markova says everything about how we can choose to live now.
I will not die an unlived life.
I will not live in fear
of falling or catching fire.
I choose to inhabit my days,
to allow my living to open me,
to make me less afraid,
more accessible;
to loosen my heart
until it becomes a wing,
a torch, a promise.
I choose to risk my significance,
to live so that which came to me as seed
goes to the next as blossom,
and that which came to me as blossom,
goes on as fruit.